Enzymatic Therapy Ostivone Ipriflavone
2017-10-26

0

4553
1.About Enzymatic Therapy Ostivone Ipriflavone
Enzymatic Therapy Ostivone Ipriflavone is a great partner product for Calcium.It can enhance the body's use and absorption of calcium.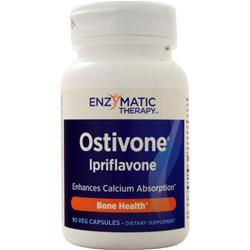 2.Main ingredients
Ipriflavone ,Plant-derived capsule (modified cellulose), cellulose, magnesium stearate, silicon dioxide.
3.Key benefits
Ø Increase bone density
Clinical studies have reported that ipriflavone helped support vertebral bone density in subjects who received ipriflavone when compared to a placebo group. Further support was reported in a study that compared the combination of ipriflavone and vitamin D versus ipriflavone only, vitamin D only, or placebo. It was found that the combination of nutrients provided the greatest benefit for healthy bones.† In a clinical trial in which participants received either 600 mg of ipriflavone and 1 gram of calcium, or placebo plus one gram of calcium, the group receiving ipriflavone/calcium experienced double the bone support than the group taking only calcium.
4.Suggested use
One capsule three times daily with meals.
5.Warning
Ostivone (ipriflavone) may slow the metabolism of theophylline (a prescription drug for asthma. Please consult you healthcare practitioner before using the product in conjunction with theophylline. If pregnant, nursing, or taking prescription drugs, consult your healthcare practioner prior to use.