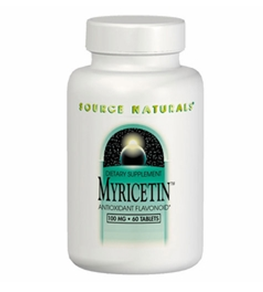 Myricetin is a naturally occurring flavonoid that is found in berries, fruits, vegetables, herbs, tea and wine. Many in vitro studies have demonstrated the antioxidant properties of myricetin. In vitro research also suggests that myricetin in high concentrations is capable of modifying LDL cholesterol in a manner that enhances its uptake by white blood cells.
Benefits
1.Blood Glucose
Similar to kaempferol, myricetin seems to be able to reduce blood glucose levels by increasing myocyte uptake as well as increasing hepatic glycogen synthesis.
2.Adipogenesis

Myricetin have been shown to inhibit glucose uptake into cultured rat adipocytes; the opposite effect as is seen in myocytes.
3.Osteoblasts

In vitro studies suggest that myricetin is able to prevent oxidative damage in osteoblasts and potentially protect against osteoporosis by this mechanism
Ingredients:

dibasic calcium phosphate, microcrystalline cellulose, stearic acid, and colloidal silicon dioxide
Suitable for vegetarians and Hypoallergenic: contains no yeast, dairy, egg, gluten, corn, soy or wheat. Contains no sugar, starch, salt, preservatives, or artificial color, flavor or fragrance.
Suggested Use:
One Myricetin tablet a day with a meal.
Warning:
Store in a cool, dry place.
If you are pregnant, may become pregnant, or breastfeeding, consult your health care professional before using this product.
Do not use if either tamper-evident seal is broken or missing. Keep out of the reach of children.