The Relationship Between Epicatechin and Muscle
2017-09-21

6

6067
As a dark chocolate lover, maybe you know that dark chocolate contains caffeine, theobromine, carbohydrates and other ingredients,but you may have no idea that dark chocolate also contains a mysterious ingredient, that is epicatechin.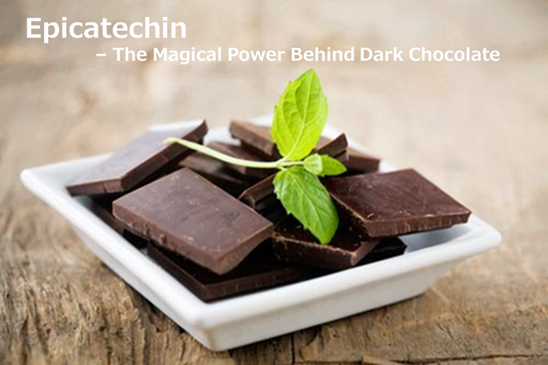 Epicatechin is an antioxidant flavonoid, occurring especially in woody plants as both (+)-catechin and (-)-epicatechin (cis) forms. Its most predominant natural source comes from cocoa extract in the range of 1.5-2.5 mg per gram[1]. Aside from cocoa extract, epicatechin can also be ingested through common healthy foods like: dark chocolate,Blackberries, Black grapes, Brewed green tea, Brewed black tea, Cherries and so on.While differing food sources contain different amounts of epicatechin, dark chocolate contains the most, and the darker the better with pure cocoa containing the highest amounts of all at nearly 3mg per gram.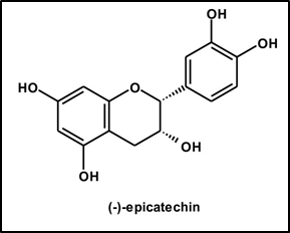 Epicatechin has many benenfits,such as increasing blood flow and nitric oxide[2],improving insulin sensitivity[3],lowering cholesterol and improving blood pressure[3].And now, a wave of supplements containing this incredible ingredient have started to take the supplement world by storm.Why?
Gabriela Gutierrez-Salmean's group [4]carried out a study in two parts, the first part of the study was done in animals.They divided the mice into young and old groups,and treated these mice for 2 weeks with either vehicle by gavage or epicatechin.Then they examined the effects of aging on protein levels of recognized modulators of SkMgrowth (myostatin, follistatin) and other indicators.
The results showed that aging led to an 18% increase in myostatin and 30% decreases in follistatin protein levels. In young and old mice, epicatechin treatment significantly decreases myostatin levels(15% and 21%, respectively), while follistatin increases (56%) in old muscle. Of particular interest is that myostatin levels of treated old mice were similar to those of untreated young animals.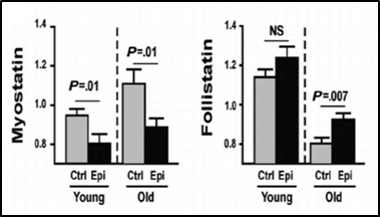 The second part was done in human and also divided samples into young and old groups. Human subjects were treated for 7days with 25 mg of pure epicatechin provided in capsules bid .Muscle strength was assessed by hand grip dynamometry. The results showed that in aging, SkM levels of myostatin significantly increase (28%) while offollistatin (30%) decrease. Treatment for 7days with epicatechin yielded a bilateral increase in hand strength of 7%,which was accompanied by a significant increase (49.2±16.6%) in theratio of plasma follistatin/myostatin levels .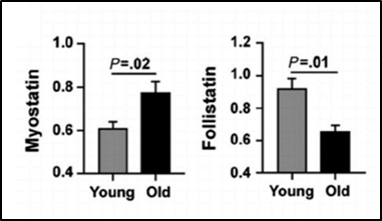 This research with epicatechin indicates that it increases levels of follistatin, a special type of protein found in the muscles, which binds to and thereby inhibits the actions of myostatin in the body. In a nutshell, more follistatin equals less myostatin, which in turn means more muscle mass.
In summary,epicatechin also has ability to enhance muscle growth and strength. So it is not difficult to understand why many body builders tend to buy fitness products containing epicatechin.
Expand reading:Myostatin is a myokine, a kind of regulating molecule released by muscles. The 'opposite' of myostatin is a myokine called follistatin. Unlike myostatin, which suppresses muscular growth, follistatin indirectly promotes muscle growth because it hinders myostatin signalling.
References
[1] Miller KB, Hurst WJ, Flannigan N, Ou B, Lee CY, Smith N, Stuart DA. Survey of commercially available chocolate- and cocoa-containing products in the United States. 2. Comparison of flavan-3-ol content with nonfat cocoa solids, total polyphenols, and percent cacao. J Agric Food Chem. 2009 Oct 14;57(19):9169-80.
[2] Sudarma, V; Effect of dark chocolate on nitric oxide serum levels and blood pressure in prehypertension subjects.; Departement of Clinical Nutrition, University of Indonesia; 2011
[3] Grassi, D; Short-term administration of dark chocolate is followed by a significant increase in insulin sensitivity and a decrease in blood pressure in healthy persons.; Department of Internal Medicine and Public Health, University of L'Aquila; 2005
[4] Gutierrezsalmean G, Ciaraldi T P, Nogueira L, et al. Effects of (-)-epicatechin on molecular modulators of skeletal muscle growth and differentiation.[J]. Journal of Nutritional Biochemistry, 2014, 25(1):91.