What is Glycyrrhizic acid
Glycyrrhizic acid(or glycyrrhizin) is the main sweet ingredient of licorice roots.It is structurally a saponin that has been used as an emulsifier and gel forming agent in food and cosmetics. Its aglycone is enoxolone and it has therefore been used as a prodrug for that compound, for example it is used in Japan to prevent liver carcinogenesis in patients with chronic hepatitis C.In addition,it has potential immunomodulating, anti-inflammatory, hepato-protective and neuro-protective.
Glycyrrhizic acid regulates certain enzymes involved in inflammation and oxidative stress, and downregulates certain pro-inflammatory mediators to prevent inflammation and reactive oxygen species (ROS)-induced damage.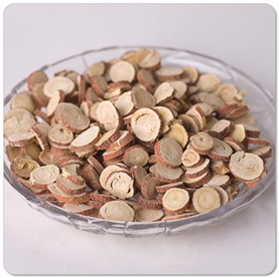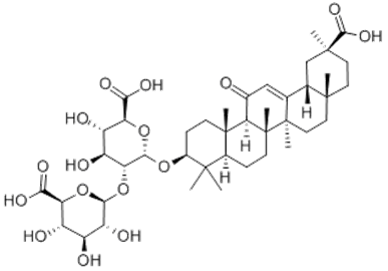 Health Benefits of taking Glycyrrhizic acid
◆Anti-allergic
Active systemic allergic reaction in Balb/c mice suggested that GA can inhibit the increased level of IL-4 in a dose-dependent manner and restore the immune balance of TH1/TH2 cells.In addition, GA significantly attenuated B cells that produced allergen-specific IgE and IgG1, in part because of low levels of TH2 cytokines.Passive skin allergy in vivo and RBL-2H3 cell immunology tests in vitro showed that GA play a role of "mast cell stabilizer",as it inhibited mast cell threshing and reduce vascular permeability by inhibiting the expression of Orai1, STIM1 and TRPC1, which blocked extracellular Ca2+ influxes.These three studies in vivo and in vitro have shown that GA can be used as an effective anti-allergic agent from food for the prevention and treatment of IgE-mediated allergic reactions.
◆Heal Gut Inflammation and Ulcers
Glycyrrhizic acid is a good adjunctive treatment to standard clarithromycin triple therapy in the treatment of Helicobacter pylori as it increases the eradication rate of H. pylori by about 20% .In patients with dyspepsia, licorice helped symptoms of nausea, indigestion, and stomach pains .In rats with stomach ulcers caused by aspirin, licorice decreased the number and size of the ulcers.
◆Antioxidant
Fluorescence method shows that glycyrrhizic acid cleared three kinds of reactive oxygen species: hydrogen peroxide, peroxy radicals and superoxide anions. However, glycyrrhizic acid is unable to remove peroxynitrite, hydroxyl radicals, singlet oxygen and 2,2-diphenyl-1-bitteryl hydrazine (DPPH) groups, indicating that glycyrrhizic aicd is a weak scavenger.
◆Help with Infections
Glycyrrhizic acid stimulates the immune system and has antioxidant properties .And it has antiviral, antibacterial, and anti-fungal properties.In a cell-based study, glycyrrhizic acid (from licorice extract) was effective in controlling the growth of bacteria.
Dosage
There are two kinds of licorice, "standard" licorice and " de-glycyrrhizinated " licorice (DGL). Each type applies to different conditions.Standard licorice containing licorice is used in respiratory infections, chronic fatigue syndrome or herpes.Licorice root in capsules, 5-6 grams per day, can be used.250 to 500 mg of concentrated extract per day is another option.Alternatively, tea can be made by boiling 1/2 ounce (14 grams) for 15 minutes in 1 pint (500ml) of water and then drinking two to three cups (500 to 750 milliliters) per day.Long-term use (more than 2 to 3 weeks) high content (more than 10 g / day) containing glycyrrhizic acid products should be attempted only under the supervision of a doctor.Licorice cream or gel can be applied three to four times a day directly to herpes.