What is arecoline?
Arecoline is an alkaloid natural product found in the areca nut, the fruit of the palm tree.And it is an oily liquid that dissolves in water, alcohol and ether. Arecoline is an agonist of muscarinic and nicotinic acetylcholine receptors,and it has shown improvement in the learning ability of healthy volunteers. Since a characteristic of Alzheimer's disease is cognitive decline, the arecoline is considered to be the treatment of this process.However, arecoline may be result to cancer,it is not the first drug of choice for this degenerative disease.It has been used as a euphoriant in the Pacific Islands.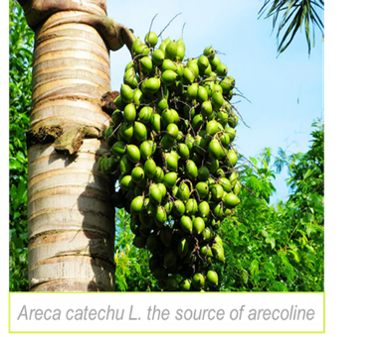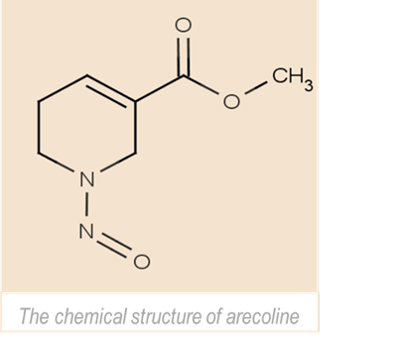 Health Benefits of taking Acacetin
Arecoline can stimulate people's nervous system.When you chew betel nut,you can feel a temporary feeling of energy, euphoria, and well-being, likely due to the arecoline content triggering the production of adrenaline in the body.
Arecoline can help you lose weight because it may also suppress appetite. So many dieters benefit from this ingredient.
One of the muscarinic agonists tested in AD is arecoline and its bioisosters, which are widely explored as muscarinic receptor 1 agonist (M1 receptor agonist) in AD research. In this regard, five-membered heterocyclic ring system attached arecoline basic nucleus (N-methyl tetrahydropyridines) at third position has been extensively researched on. The present research involved synthesis of arecoline thiazolidinones 5(a-j) by using dipolar addition of 3-aminopyridine and alkyl/aryl carboxaldehydes in presence of gamma ferrite as catalyst. The resulting products were methylated and reduced to get desired products. Subsequently the synthesized arecoline thiazolidinones were subjected to in vitro muscarinic receptor binding studies using male Wistar rat brain (cerebral cortex) membrane homogenate and extended this in vitro study to in vivo pharmacological evaluation of memory and learning in male Wistar rats. Four derivatives (5a-5c and 5e) showed considerable M1 receptor binding affinity (in vitro) and elicited beneficial effects in vivo memory and learning models (Rodent memory evaluation, plus and Y maze studies)[1].