What is arbutin?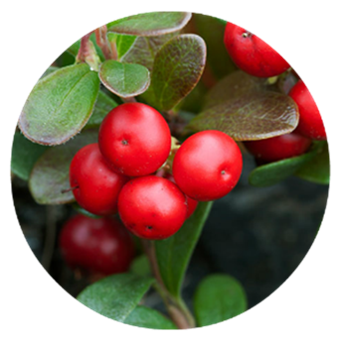 Arbutin is a glycoside; a glycosylated hydroquinone extracted from the bearberry plant in the genus Arctostaphylos. Besides bearberry plant,arbutin is found in wheat as well as Bergenia crassifolia and is concentrated in pear skins.Arbutin was also produced by an in vitro culture of Schisandra chinensis.
In addition to natural sources, pure arbutin can synthetically be prepared from hydroquinone and acetobromoglucose done in presence of an alkali.
Arbutin is a powerful antioxidant that is mainly responsible for lightening the dark areas of your skin. Its mechanism of work is believed to be slow hydrolysis that releases hydroquinone which then affects melanin synthesis.
In melanin synthesis, tyrosinase is responsible for the first step in melanin production. It converts a protein building block (amino acid) called tyrosine to another compound called dopaquinone. Of course, other reactions are involved in conversion of dopaquinone to melanin on your retina, hair follicle and skin.
Since arbutin has the ability of inhibiting tyrosinase, a rate determining (or limiting) enzyme found in melanocytes (cells responsible for melanin pigment production in humans that give hair, skin and eyes its color), it is widely used as a skin-lightening agent i.e. arbutin skin whitening.
This bearberry extract safe for regular and long-term skin whitening treatment. It is more expensive than hydroquinone, which has been banned in a number of countries.
Vitro studies of human melanocytes has revealed that when arbutin is at concentrations lower than 300 μg/mL, it can reduce tyrosinase enzyme catalysis activity as well as amount of melanin one has with little cytotoxicity ( being toxic to cells) evidence.
When compared to hydroquinone, arbutin has been found to have lesser side effects and be gentler than hydroquinone as far as typical side effects like skin irritation are concerned.
Arbutin exists in two conformations, alpha and beta. The D-glucose binds with hydroquinone spatially molecule to form arbutin in two ways i.e. the alpha and beta glycosidic linkages. Arbutin extracted from bearberry is beta i.e. hydroquinone-O-beta-D-glucopyranoside, which is naturally occurring. Alpha can only be made in the laboratory i.e. alpha arbutin is synthesized in laboratory as mentioned above. Marketers can use these two terms to confuse and promote their products unfairly. This is nothing big to worry you but rather an issue of stereochemistry i.e. how atoms are arranged spatially while forming atoms and how they can be manipulated.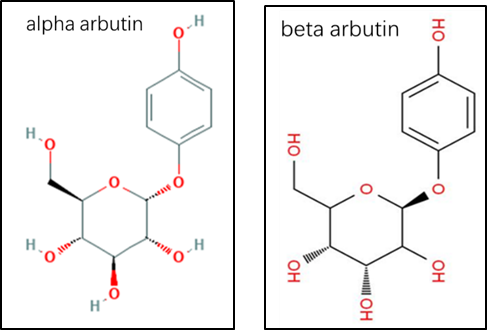 Whereas the alpha arbutin manufacturers may often claim that alpha arbutin is several times much stronger than beta arbutin (naturally occurring), which is true. Alpha-Arbutin is a powerful, yet gentle, skin lightening agent .Alpha-arbutin brings all the benefits of strong melanin inhibitors like hydroquinone without the strong odor, toxicity, and potential side effects. Alpha-Arbutin is quickly becoming the logical alternative to harsh skin lightening chemicals.
However, alpha arbutin is very expensive.To challenge companies that use the various plant extract that have arbutin such as bearberry, blueberry, mulberry leaf, cranberry extract, etc. it is not clear if the extracts have substances that might affect arbutin absorption. Furthermore, it is not clear if the concentrations of arbutin in the extracts have sufficient amounts of arbutin.
Besides skin whitening, arbutin is used as a traditional urinary tract infection, kidney stones and cystitis treatment. It is also used as a stabilizer on color photographs and as a diuretic
According to Hannah Sivak, PhD, Biochemist, Skin Actives Scientific LLC, Gilbert, Arizona, "Arbutin also has anti-cancer activity on melanoma cells, apparently by regulating expression of the p53 tumor suppressor and cell apoptosis"